It's been just over 2 months since our Urban Sky Cares holiday season campaign kicked off, and once again it has been a tremendous success thanks YOUR help and generosity on social media! For this initiative, a large portion of our campaign was spent partnering with Christmas Bureau of Edmonton; an amazing organization which serves to provide a festive meal and coordinaton of Christmas giving to Edmontonians in need. And, with your help, $2,500 was raised as we helped to #passtheplateyeg. We then matched that amount, bringing the combined total to $5,000 donated which meant that 76 families were able to have a Christmas meal to gather around!
Christmas Bureau of Edmonton shared these kind words: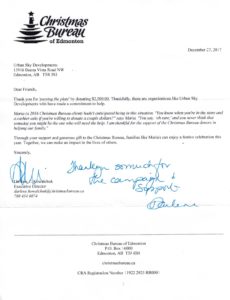 We at Urban Sky Developments want to thank to every one who donated and helped to make this campaign so successful! Follow us on social media to learn more about our upcoming events!